Greener Partners sparks curiosity in science and healthy eating with the Farm Explorer, a mobile farm with hands-on lessons about edible plants, seasonal eating, and nutrition.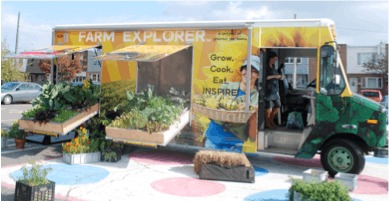 Our discovery-based programs create excitement around growing, preparing, and eating fresh fruits and vegetables as kids dig in healthy soil, smell herbs, taste plants, and cook with ingredients they helped harvest.
Our farmer-educators bring a seed-to-plate experience right to your school or community site — in a farm on wheels bursting with +30 edible plants.
It's fun, educational, and convenient!
"The food demonstrations you've had this year have been life changing for my daughter. She is a chicken nugget and french fry kinda girl and always refused to try most foods. After trying the sweet potato dip, she has branched out to trying everything you can imagine… Great program!! She was not only excited to tell me that she tried the foods but she remade the recipes for us to try. If you can keep this program, I highly recommend it!"

Parent of a student touched by the Farm Explorer program