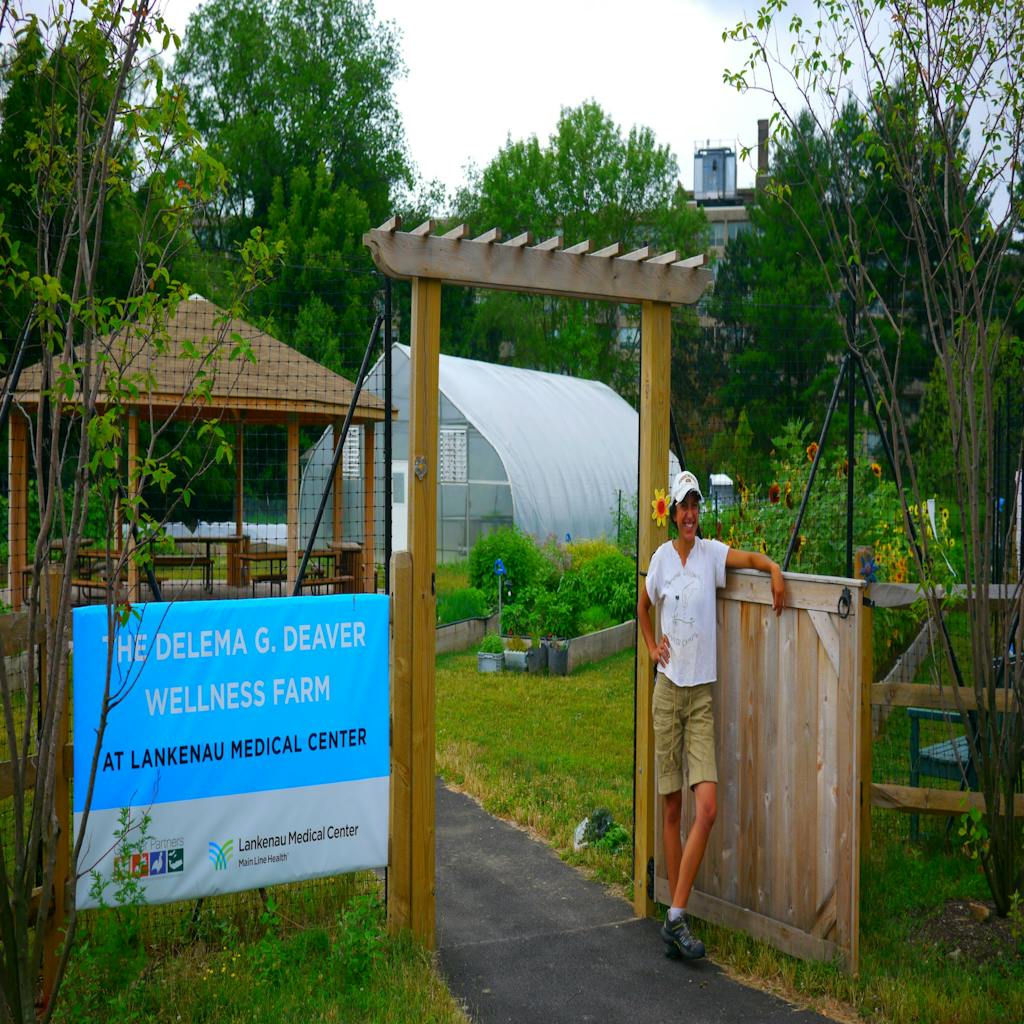 We believe that food is medicine and that increasing access to fresh food promotes health and equity.
Across the nation, hospitals, community clinics, insurers, and healthcare providers are also recognizing that food is medicine. Fresh food plays a critical role in patient health, but many patients experience barriers to healthy eating, such as access to healthy food or skills in preparing it. And healthcare providers need support as well. When providers are connected to their own wellness and fresh food from seed to plate, they can be more effective advocates for including vegetables and fruits in a patient's diet.
Greener Partners' evidenced-based programs have been implemented in a variety of healthcare settings, empowering thousands of patients to eat more fruits and vegetables, an important driver of better health.
Hospital Farm Planning and Management
On-site farms nourish a hospital community through food access, education, and wellness initiatives. Our farmers work with health systems to both plan and operate farms and ensure robust harvests using regenerative agriculture practices. At Deaver Wellness Farm at Lankenau Medical Center, we grow 5,000 pounds of produce annually that is distributed to patients experiencing food insecurity.
Healthcare Provider Education
Medical students and professionals of all levels have the opportunity to experience the farm as a part of their continuing education whether it's through immersive on-farm rotations, fresh produce distributions in the clinical setting, or volunteering. Fresh produce from the farm is leveraged as a vehicle to shift conversations between health care providers and patients and integrate healthy eating and nutrition into holistic patient care.
Farm Elective
We train the next generation of medical professionals in food production, nutrition, and food justice, making the critical link between food and health. The goal of this elective is to expose and immerse residents in the full range of programmatic and agricultural operations of Deaver Wellness Farm, while also providing opportunities to advance nutritional knowledge as it relates to health care delivery, and to practice individual self-care.
Residents may have the opportunity to observe and/or participate in any or all of the following: produce distributions and nutrition classes delivered in out-patient settings; seasonal farm tasks including planting, seeding, weeding, pest management and grounds maintenance, harvesting, washing and distributing produce to patients within select out-patient practices; farm-based education with school-aged youth who visit the farm.
College Tours
Majors, graduates and professionals of all levels in the fields of Public Health, Community Nutrition, Education, and Environmental and/or Social Sciences can enhance their continuing education through farm tours. Our Farm Educators lead visitors through the range of programmatic and agricultural operations of the farm, inviting participants to draw broader connections among food, health and the environment. Tours may be tailored to the specific interests of the group and may include hands on activities and tastings.