Quick Links
Videos
Yogurt Dip with Mint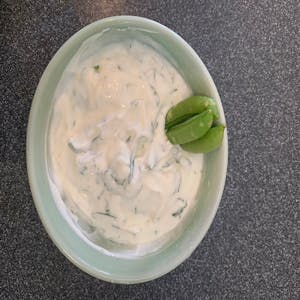 Serves 2-4
Ingredients
1 cup plain yogurt, low or full-fat (Greek-style or any)
½ lemon
¼ teaspoon kosher salt (use less if regular table salt)
Fresh mint and/or other herbs to taste
Fresh vegetables for dipping
Directions
Put yogurt in a bowl and squeeze lemon into it. (If you like lemon a lot, you can also use some of the skin, or zest of the lemon. Use a grater or small knife to chop it very fine.)
Sprinkle in salt.
Chop or tear up mint or any other fresh herbs. You can use as much or as little as you like.
Taste. Add more lemon, salt, or herbs.
Dip your vegetables!
Keeps for 4 days in the refrigerator.
Background about this dip:
Many countries and cultures use a yogurt-based sauce to provide cooling, contrasting flavor, including Greek Tzatziki, Lebanese Labne/Lebni, or Indian Raita
Like most recipes, you can make some changes based on what ingredients you have and what you like.
You can use a mix of fresh herbs. Or if you don't have fresh, use dried ones; just remember to use a lot less, about ¼ of fresh.
Herbs are strong-smelling and flavored plants, many of which can be used in cooking, medicinally, or to scent products like candles.
Lemon's strong flavor is found in the fruit, but also in the oil found in the skin. For an extra lemony boost, grate or chop the skin, or zest, of the lemon. That way you don't waste anything.
This dish calls for low-fat or full-fat yogurt. You can also use non-fat plain yogurt if you or someone in your family prefers or needs to do so.
Green Tahini Dip
Serves 2-4
Ingredients
1 cup tahini
1 lemon
1-3 tablespoons water, as needed
½-1 teaspoons salt
+5 Tablespoons Fresh parsley, mint, cilantro, chives, and/or other herbs to taste
Fresh vegetables for dipping
Directions
Place tahini in a bowl and whisk with a fork to smooth it out.
Add juice of ½ lemon and ½ t of salt, continuing to whisk. The tahini may seize up; if so, add a tablespoon of water.
Continue to add lemon juice, salt, and water to taste.
Chop herbs very fine. Add to lemon tahini sauce.
If you like, you can put the mixture into a food processor or use an immersion blender to further blend.
Dip your vegetables!
Keeps for 6 days in the refrigerator.
Background about this dip:
Tahini is the butter or paste of sesame seeds — imagine peanut butter made with sesame seeds.
Versions of this dip abound, with many countries such as Israel, Lebanon, Palestine, and others using this dip or sauce on grilled meats, cooked vegetables, falafel, or folded into sandwiches or gyros.
Try a spoonful on a green salad dressed with vinaigrette, or on Summer Herb and Tomato and Cucumber salad.
The quality of the tahini will greatly affect this dish, since it has so few ingredients. It's worth seeking out the freshest tahini you can find.
Summer Herb, Tomato, and Cucumber Salad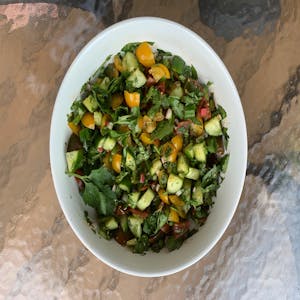 Serves 4
Ingredients
2 c diced tomatoes or quartered cherry tomatoes
2 c diced cucumbers, a variety without lots of seeds if possible
3 radishes, diced fine
½ red, orange, yellow bell pepper, diced
Small shallot or ¼ c red onion, diced small
2 T olive oil
2 t lemon juice
2 t white wine or sherry vinegar
½ t salt and freshly ground pepper
½ c chopped parsley
½ c chopped cilantro
¼ chopped dill
¼ c chopped mint
Directions
Add the first 5 ingredients to a large bowl and mix. Sprinkle in a pinch of salt.
Whisk together the oil, lemon, vinegar, salt and pepper. Pour over the vegetables and stir gently.
Add the chopped herbs.
Taste. Add more lemon, salt, or herbs.
Keeps for 2 days in the refrigerator.
More information about this salad:
The combination of tomato, cucumber, and herbs are found throughout the Mediterranean and throughout Middle Eastern and Arab kitchens.
There are a lot of herbs in this salad — you can use less, or you can use even more.
Add chickpeas to make this a heartier salad. Try sautéing chickpeas in olive oil flavored with cumin, coriander, and cloves and cooking until crisp.
Skip any of the vegetables – or herbs – and increase others you prefer, keeping about 5 cups of vegetables total.
For non-traditional, summery additions, add fresh corn, avocado, or sugar snap peas.
Summer Kale Salad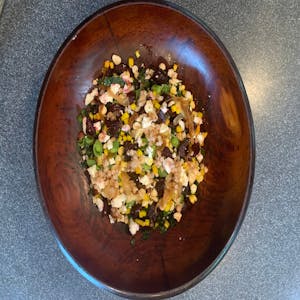 Serves 3-4
Ingredients for salad
1 bunch of kale (any type, lacinato is great)
⅓ c farro (or another grain such as wheat berries, rice, or wild rice)
1 bunch beets (3-4)
1 T oil, plus more for cooking farro
½ ear corn, cut off the cob
½ c sliced sugar snap peas
⅛ c finely diced root vegetable, such as radish, carrot, or raw beet
¼ c feta or goat cheese, crumbled
¼ c toasted pecans, almonds, or hazelnuts
Ingredients for vinaigrette
½ plus 1 T c olive oil
¼ c wine vinegar, such as white or red wine, sherry
Juice of ½ lemon
1 t dijon mustard
½ t honey
Salt and pepper to taste
Directions
Roast beets: preheat oven to 400 degrees. Cut the beets into ½-inch chunks. Place on a baking sheet, mix with 1 T oil and sprinkle with salt. Check after 20 minutes and move pieces around. Continue cooking until there is a change in color and they are somewhat reduced in size, 10-15 more minutes. Set aside.
Make vinaigrette. Place mustard and honey in a bowl and whisk together with a fork. Add about ¼ t salt, some pepper, lemon juice and vinegar, then slowly pour in the oil while whisking.
Cook farro: rinse farro, place in a pot, and cover with water by 3 inches. Add a pinch of salt and a bit of olive oil. Bring to a boil, reduce the heat, and simmer for about 25 minutes, until tender but not mushy. Drain, place in a small bowl, add 1 t of dressing and stir.
While the beets and farro cook, remove the kale leaves from the tough center rib. Wash and dry, then cut into thin ribbons or chop fine. Place in a large bowl and pour 2 T of vinaigrette over the kale. Squeeze with both hands, using a massage-like motion, for 1-2 minutes, until softened and you see a slight change in color. Taste to check for tenderness.
Scatter the other ingredients over the kale, reserving some for the top. When ready to serve, add another 4-5 T of dressing and mix, then scatter the remaining ingredients over the top.
Kale salad lasts for 2-3 days, covered, in the refrigerator.
Background of salads:
A variety of textures and flavors make a salad great: crunchy and soft, salty and sweet, ingredients cut into different sizes.
The other key is making your own dressing. It makes a minute, is economical, and avoids additives. Homemade dressing keeps for 2 weeks in the refrigerator.
Mixing cooked and raw vegetables gives a salad lots of character.
You can use baby kale as you would lettuce, but mature kale needs to be cut up pretty small and then massaged.
The beets, farro, and vinaigrette can be prepared days ahead.
Cook extra farro; it keeps in the refrigerator for 4-5 days and is great as the base of a grain bowl, a side dish or sprinkled onto salads. Always drizzle olive oil and a squeeze of lemon or a bit of vinegar over just-cooked farro to infuse it with more flavor.