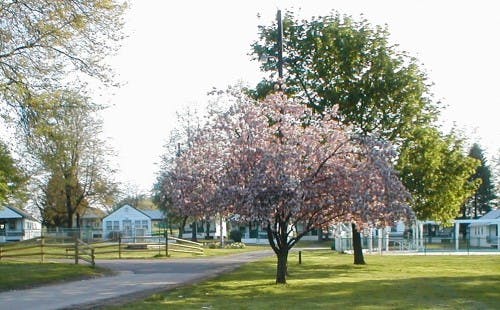 With the new year we often make big changes in our lives. For Greener Partners, this year we are making an important strategic move, focusing the energy of our incredible staff on our food education and distribution programs. We are also moving our Montgomery County farm hub from Longview Farm, just down the road to another beautiful site outside of Norristown. We are enlivened by this opportunity, but it does mean some important changes in the way we operate.
Our new farm hub
Over the years, we've worked regularly with an organization we've grown to admire, Variety – The Children's Charity of the Delaware Valley, which serves youth with disabilities. We are now moving our Montgomery County farm hub to their beautiful campus in Worcester Township, just down the road from Longview Farm.
We look forward to deepening our work with Variety and the greater Norristown and Collegeville communities. This exciting transition is modeled on the successful partnerships we have established with other nonprofits – Guild House West, our urban farm hub, and Lankenau Medical Center, our hospital farm hub.
All phone numbers will remain the same, but here's our new mailing address:
P.O. Box 221
Fairview Village
Norristown, PA 19409
The Common Market Collaboration
As farmers, Greener Partners continues to grow food for our Farm Explorer education programs, for donation, and to supplement our farm to office programs. But as we move forward, Greener Partners will not be doing major growing for CSA.
This season we are thrilled to be partnering with The Common Market to administer our CSA. Over the past several years, Greener Partners and The Common Market have successfully partnered on several projects and we are excited to extend that relationship to you.
The Common Market is a regional leader in local food distribution, and offers a wide range of products many of you have been looking for, such as dairy, fruit, meat and bread in addition to local, sustainable and seasonal vegetables. Click here to see their seasonal offerings. Everything is grown by small farmers within 250 miles of Philadelphia.
We're committed to providing a local food experience for our CSA members and partnering with The Common Market will help us do just that. The Common Market will be delivering every other week from June through November to both Variety (2950 Potshop Road, Worcester) and The United Methodist Church (350 West State Street, Media). Sign ups will begin on or before the first week of March.
If you have questions about the The Common Market Farm Share please email Amy Johnson at amy.johnson@greenerpartners.org.