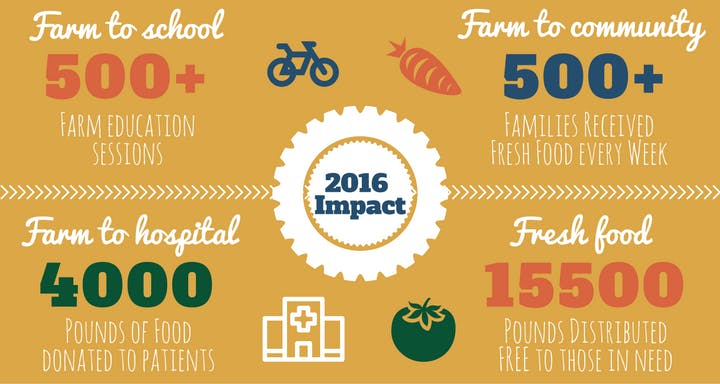 In 2016, we have been busy! New this year:
We opened the Deaver Wellness Farm at Lankenau Medical Center, the first education and production farm on a hospital campus in the region. The farmers at Deaver distributed over 4,000 pounds to patients at Lankenau and taught healthy eating classes.
We piloted an innovative Farm-to-Office employee wellness program, bringing fresh food right to the workplace.
We distributed thousands of pounds of fresh food to Norristown families in need from two local schools, and demonstrated healthy recipes to make at home.
We helped two schools start their own gardens, empowering school communities to bring more fresh food to their families.
As always, we continue our core work:
Bringing the Farm Explorer to dozens of schools in the Philadelphia area and hosting field trips at our farms. These programs are the bedrock of our work, where we teach science, agriculture, cooking and healthy eating in the most dynamic ways. Kids love these programs and our message sticks to spark lifelong healthy eating habits.
Doing in-depth food justice and leadership work with our SOL Food Project teen interns at Guild House Farm.
Feeding more than 500 families with our subscription CSA as well as free food distribution programs.
Working with the Get HYPE Philly collective to transform teen health.
Partnering with other organizations to make our work more effective.