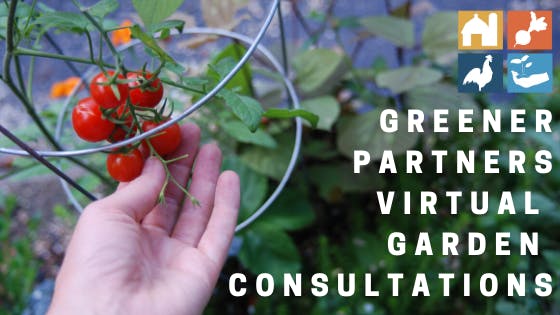 COVID-19 has affected all of our lives, especially when it comes to what and how to eat. There has been a national resurgence in home gardening, as it is both practical and therapeutic, and gives us the chance to provide for ourselves and our families.
Greener Partners can equip YOU with the tools and knowledge needed to start your own garden – whether you're brand new to growing food or you want to ramp up production.
We're a team of expert growers with decades of experience and we're here to bring our skills to your backyard through our Virtual Home Garden Consultation service.
Schedule your personalized video call consultation today. Our rate is $100/hour, but a sliding scale is available for all consultations. By utilizing our services at a market rate, you support our work providing gardening services in marginalized communities at little to no cost. Our staff will walk you through starting seeds, site selection, planting calendars, soil testing, composting, and more!
All garden consultation fees support Greener Partners' work, providing fresh food access, education, and urban gardening support in Philadelphia, Norristown, and Chester. By growing your garden with us, you support the growth of gardens for people who are experiencing food insecurity. If you want to support this work, you can donate here. 
Request more information here. Reach out to Amy at amy.johnson@greenerpartners.org or 610-316-5671 with any questions.